Novelty Cakes – Fluffy Pillow (NC2)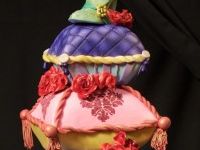 Course Code: NC2
Course Fee: Click here for class availability & pricing
Course Summary: This module is a FULL HANDS ON class and will cover the following:
1. Make fondant
2. Sculpt cakes (2 pcs for 2 tier)
3. Cover with fondant (2 techniques)
4. Stacking & finishing touches
THIS IS A CAKE DECORATING CLASS. NO BAKING IS REQUIRED. CAKE AND TOOLS WILL BE SUPPLIED.
PREREQUISITES: Students must have already attended Cake Decorating Module 1 (Basic)
Terms & Conditions:
Full payment by bank transfer within 3 days of confirmation of seat availability. Seat is not guaranteed until payment is received. Your class fee is not refundable due to a student being a "no show."
If a class is fully booked, it will be indicated in the class status as "FULL"". No further registrations will be accepted.
If cancellation is made more than seven (7) days prior to the start of the class, the fees may be transferred to a later class but not refunded. Bookings are, however, freely transferable to another person for the same class so you are welcome to send someone else in your place.
Occasionally, we may have to cancel or postpone a class due to unavoidable circumstances or if a class is under-subscribed. In such a case we will notify all confirmed attendees as soon as possible and offer full refunds by cheque or bank transfer.
Limited photography is allowed. However, we do not allow students to take videos during the classes as this can detract from other students' enjoyment of the course.
Only paid students are permitted in the classroom. We are unable to accommodate guests or children.
We will not be held responsible for any loss, injury or damage to participants or their property due to any act or omission by the participants themselves, Zan's Treats or its agents. The well-being of our customers and staff is very important to us. We provide a safety briefing at the start of each course. You are required to follow these guidelines in order to help us create a safe working environment for yourself and others.