Sweet & Savoury Puff Pastries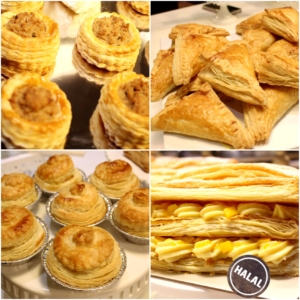 Course ID: CFPBSAVBB03772A
Class Fee: $220.00 (excl. GST)
Duration: 1 Day x 7.5 hours
Instructional Method: Full Hands-On
Level of Difficulty: Beginners to Intermediate
Prerequisites: None
Included in Fee: Ingredients and printed recipes for the class.
In this 1-day comprehensive and immersive hands-on class, participants will learn how to create puff pastry dough, the function of the ingredients, along with the fillings to make an assortment of sweet and savoury puff pastries, including Mango Strudel, Chicken Curry Puff, Chicken Mushroom Mini-Pie and Vol-au-vent.

COURSE CONTENT
1. Puff Pastry Basics
Learn the proper techniques of wrapping, rolling and folding dough to ultimately create the paper-thin layers of delicious puff pastry.
2. Rolling, Cutting & Shaping Puffs
Learn how to roll, cut and create decorative edges and shapes using cookie and round cutters.
3. Make Fillings
Use our special in-house recipes to make appetizing fillings: Crème Patissiere (Pastry Crème), Spicy Potato Chicken Curry and Creamy Chicken Mushroom.
4. Assembly
With the shaped puffs ready, and the fillings done, its time to assemble and put some of your creativity to work.
5. Baking
We show you how to ensure your puff pastries come out of the oven looking great with tips on proper heat distribution and temperature to achieve the best results.
* On completion, students will receive a Certificate of Achievement.
* This class is a full hands-on baking class. You will be on your feet most of the time, so we strongly suggest you wear comfortable, closed-toe shoes.