Introduction to Cakes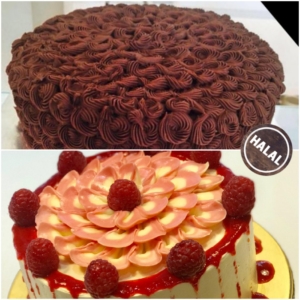 Course ID: CFPBCAKBB03776A
Class Fee: $220.00 (excl. GST)
Duration: 1 Day x 7.5 hours
Instructional Method: Full Hands-On
Level of Difficulty: Beginners to Intermediate
Prerequisites: None
Included in Fee: Ingredients and printed recipes for the class.
This 1-day comprehensive hands-on class is an essential introduction to cake baking for the aspiring professional cake maker. Participants will learn the function of the ingredients, bake the wonderfully versatile Butter and Sponge cakes, make, fill and pipe buttercream and chocolate ganache, and apply professional finishing skills to produce two exquisite cakes: Chocolate Hazelnut Brittle and Raspberry Ripple.

COURSE CONTENT
1. Cake basics
Learn all the essential equipment and ingredients to make Butter and Sponge cake.
2. Measuring is everything
We will teach you how to measure ingredients properly. This is easily the most important step in every bake. Understanding the correct measuring technique for a particular ingredient will guarantee best baking results.
3. Mixing & baking the cake
Learn the importance of the order of mixing ingredients, wet and dry, and baking techniques to ensure a successful bake.
4. Make Chocolate Ganache & Swiss Meringue Buttercream
Learn how to make smooth and silky Swiss Meringue Buttercream and Chocolate Ganache that are perfect for filling layers in cakes and for frosting.
5. Filling, stacking & icing the cake
Learn to fill, build and ice the cakes with close guidance by our instructors along with step-by-step instructions.
* On completion, students will receive a Certificate of Achievement.